2020 DIAMOND SKILLS CAMP SCHEDULE
Summer Camp
Session #1 Tuesday June 9th - Friday June 12th (BASEBALL CAMP)
Session #2 Monday June 15th - Friday June 19th (BASEBALL CAMP)
Due to COVID-19 and the postponement of the Oakland Athletics season Matt Olson will not be attending camp as original scheduled in 2020. Matt is excited to make a camp appearence again in 2021.
Session #3 Monday June 22nd - Friday June 26th (ALL-SPORTS CAMP)
Session #4 Monday July 6th - Friday July 10th (BASEBALL CAMP)
Session #5 Monday July 20th - Friday July 24th (BASEBALL CAMP)
Patrick Renna Appearance Week (Star Character Hamilton Porter from "The Sandlot") As of 5/4/20 this is still scheduled, however due to COVID-19 this apperence can still be cancelled at a later date.
Session #6 Monday July 27th - Friday July 31st (BASEBALL CAMP)
Session #7 Monday August 3rd - Friday August 7th (ALL-SPORTS CAMP)
Session #8 Monday August 10th - Friday August 14th (BASEBALL CAMP)
9:00am - 3:00pm & 9:00am - 5:00pm Options Available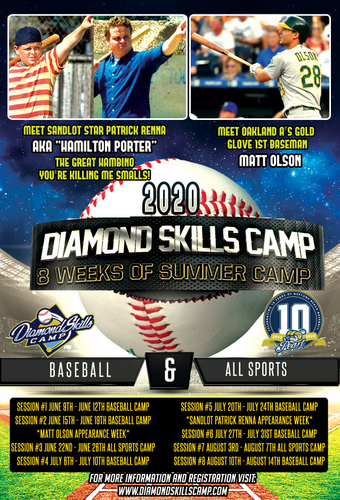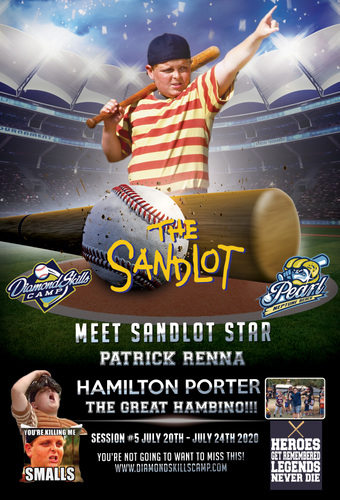 CAMP SESSION DESCRIPTIONS

Baseball Session:

This week-long camp is designed to teach the proper baseball fundamentals and skills. The campers will have an experience like no other in the Bay Area. Each camp will be structured to put campers through numerous drills (fielding, throwing, hitting, pitching, and base running) and then showcased in daily competitions and games. Campers will be put into groups based off age and experience. Whether it is a camper's first time playing baseball or an All-Star, Diamond Skills Camp prides itself on customizing the coaching to each camper.

All-Sports Session:

This week-long camp is designed to teach fundamentals and skills in numerous sports. Ultimately, these sessions are fun, athletic structured camp both girls and boys ages 5-12. Each camper will be placed in groups based on age and skill set. The sports covered throughout the week will be baseball, basketball, soccer, football (flag and touch), street hockey, and other fun recreational games. This camp is designed for any camper who enjoys playing multiple sports. The All-Sports week is best described as a week long P.E. Class! Diamond Skills Camp will have experienced coaches in each sport to work with campers throughout. The camp will also spend some time on proper exercise habits.